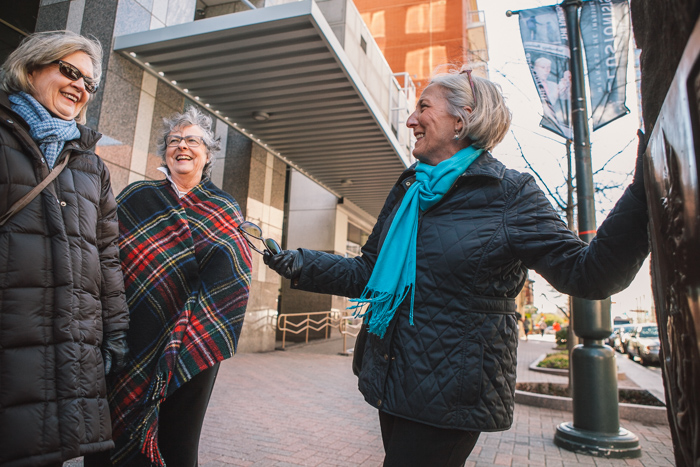 I recently had the pleasure of attending a educational city walking tour, led by Charlotte Crown Guides owner Genie Hufham. Genie and I are both Visit Charlotte partners and recently met through the VC Partner of the Year Award Ceremony. After briefly informing her about my desire to find more time to explore the city, Genie kindly invited me to tag along on one of her upcoming Charlotte walking tours.
I'm so glad she did because the tour was absolutely wonderful. Genie's historical knowledge of the all aspects of Charlotte really blew me away. Around every corner, she would stop and eagerly share some fascinating educational detail, which helped shaped Charlotte to what it is today. And what is Charlotte today? A booming, vibrant city with a breathtaking skyline, clean streets, delicious food, solid sports teams, Fortune 500 businesses, an eclectic music and arts scene, and a melting pot of people that truly define the meaning of southern hospitality.
"I wasn't born in Charlotte, but I got here as quick as I could," Genie said jokingly about those who move to the city. Genie, however, is a rare Charlotte native. She's seen the city transform and can completely understand why people – me included – are finding Charlotte more and more attractive.
Genie led us on an extended tour all through uptown Charlotte, including the landmark buildings of Bank of America, and the historic Latta Arcade and Fourth Ward neighborhoods. Some of the highlights of the trip for me:
1) Learning that our city nickname, "the Hornet's Nest," derived from British General Lord Cornwallis and his unsuccessful attempt in occupying Charlotte during the American Revolutionary War. Apparently, Charlotte locals went to extraordinary lengths to make British soldier's lives unbearable, most notably burning their own barns and stores that supplied food, supplies and grain for the Army. General Cornwallis and his troops left after a humiliating two weeks, declaring the city, "a veritable hornet's nest of rebellion."
2) Finding out that Mecklenburg was actually the first government body in America to declare independence from England. 'MERICA!
3) Exploring the inside of the Hearst Tower and learning about their beautifully ornate, art-deco, brass railings that were rescued from an Au Bon Marche department store in Paris.
4) Learning about the City Square and the meaning behind the four statues located at each corner of the intersection. Three of the figures represent elements of Charlotte's history that have contributed to the city's growth – Transportation, Commerce, and Industry – and look toward the fourth figure of a mother holding up her child, representing Charlotte's Future.
5) Walking through the Fourth Ward neighborhood and hearing the history of some of these impressive, beautiful, old homes that date back to the late 1800s.
If you ever get the urge to go for a long walk (our extended tour covered almost 4 miles!) and want to learn a little along the way, consider taking a tour with Charlotte Crown Guides. Wonderful experience!