So pumped to see my photo story about the closing and demolition of Tommy's Pub & Club being featured in the October issue of Charlotte Magazine. I had been documenting the Plaza Midwood dive bar for a year, and it's great to see the final product featured in print. Brandon teamed up with me and wrote some great copy to coincide with the photos for the magazine. We need to work together more often! Currently creating a photo book showcasing a more rounded selection of photos from the bar's last year. Stay tuned to learn how you can get one!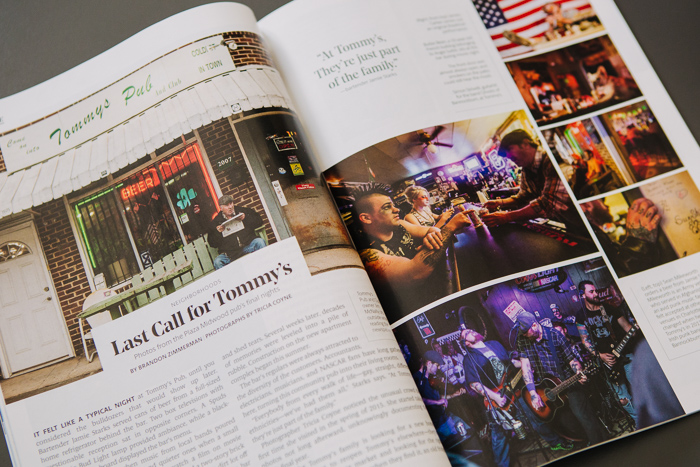 At first glance, there was nothing impressive about Tommy's Pub & Club. Aside from an occasional NASCAR flag that would hang from the awning, the small bar, located on Central Ave., in Charlotte, NC, was rather nondescript.
Every afternoon, owner Jim McNally would sit on the storefront bench, smoking Pall Mall Menthol 100's while reading the Charlotte Observer. Bartender Jamie Starks would come out and join him for a cigarette and catch up on the latest news. It was that unpretentiousness that drew me there.
My first experience at Tommy's Pub was on a Friday night in March 2015. It was a somewhat intimidating scene at first. Patrons walked passed sporting everything from spiked leather jackets to Mohawks. In the other room, a lead singer was raging; screaming lyrics into a microphone while the band threw down a heavy beat. I had come on what some at the Pub called "Punk Night," and although the music wasn't exactly my taste, the whole scene was captivating. The walls were littered with memorabilia brought in over the years by patrons looking to leave their mark. Pictures, music posters, stickers, racecar hoods, tires, drawings, raccoon skins and scribbling on the wall ascertained the bar's character.
But it was more than just the atmosphere that was interesting. If you hung out long enough, you started to notice things. There was an undeniable camaraderie between people that was seldom seen in other Charlotte bars. Tommy's Pub was more than just a place to come and grab a drink. For many, it was a second home. For others, it served as a safe haven; an unpretentious refuge for people from all walks of life. From musicians to lawyers, NASCAR fans to accountants, the bar had a seat for everyone. Its open door stance created a richly diverse group of patrons whose eclectic tastes in style, music and ideas shaped the Pub's character. It was the People's bar.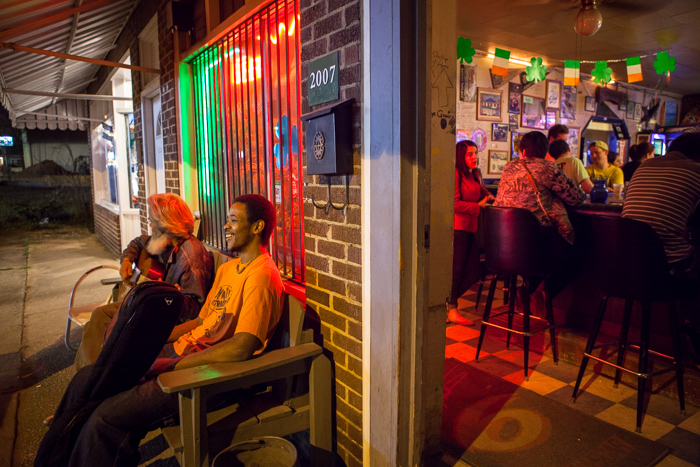 It was the mixture of all these elements that drew me to document the bar. I had no goal other than to try and capture some frames that depicted the essence of the Pub. It was pure coincidence that the day I decided to bring in a camera was the same day the Pub found out that it had been rezoned to build new apartment units. Like all things that gave Charlotte some edge, it fell victim to the evolution of progress and time. With Charlotte's real estate and development market booming, everyone knew that its demolition was inevitable. Despite the petitioning and protests at City Council, the 80-year-old brick building would come down. So I became a sort of historian, documenting the last year of Tommy's Pub & Club on Central Ave. – a place that a few lucky people knew about, and that many more will never get to experience.